Welcome to the Regional Fleet: Phil, Val, and Ali Leitch, and Mark Jess
On September 30th (via a non-listed transaction), Crown Royale (hull #281) was sold by Tim Murphy to Phil & Val Leitch, Ali Leitch, and Mark Jess of Victoria. It was the 7th transaction of the year and the 54th in 5 ¾ years in the PNW Region. The boat came with sails, a yard dolly, a small outboard engine, and a 2016 Measurement Certificate.
Phil grew up in West Vancouver, spending his youth in the 60's and 70's at the Hollyburn Sailing Club and then the Kitsilano Yacht Club. He later moved to Victoria, BC, where he co-founded Leitch & McBride Sails. His sailing career involved racing one-design dinghies and keelboats regionally, nationally and internationally. Phil was part of Canada's Challenge for the America's Cup in 1987. Phil and Val spent many years racing their Thunderbird 'Black Merlin' and cruising around the Gulf Islands with their three girls (Ali, Jenny and Kim). With their newly acquired M242, based at Royal Victoria Yacht Club, Phil will be teaching his family (including lots of grandkids) to sail. Phil and Val's daughter, Ali, and her husband, Mark (an ex-competitive rower), are co-owners and are very much looking forward to learning everything they can about sailing and racing. Phil has always really enjoyed one-design racing and is excited to be a part of this amazing Class and group of people who are a part of it.
Welcome to the Regional Fleet, Phil, Val, Ali, and Mark, and enjoy your first 242!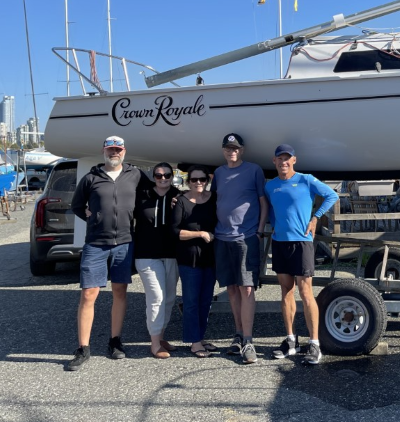 Left to right: Mark Jess, Ali Leitch, Val Leitch, Phil Leitch, Tim Murphy at Kitsilano Yacht Club, looking fast already!
---