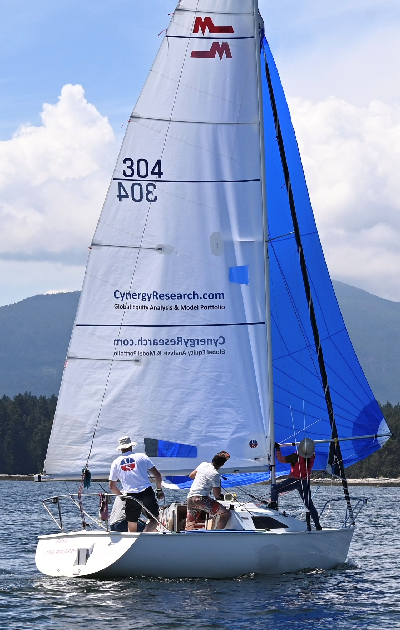 M242 North American Regatta
July 2,3, 2022
Nanaimo Yacht Club
S.I.N. Regatta

Held in conjunction with the Nanaimo Yacht Club's SIN Regatta over the July long weekend, mixed weather and strong currents challenged the sailors to be consistent. Each of the top 5 boats won a race and the top 3 had 2 wins each. Too Wicked kept the pressure on through the last race and stayed ahead of the 2nd and 3rd place boats: Back in Black and Crantini.

Coming from the lower mainland, Vancouver Island and Washington, 15 boats competed in a fleet reduced by the COVID-19 pandemic. Kudos to the Nanaimo Yacht Club, Bill Jones and Ken Holland for putting on a great event. The Race Committee held 9 races over the 2 days in challenging conditions.

Special recognitions went to Crantini's Alex Fox and m&m's Peter Grimm.
Alex won the prestigious "Screwdriver Award" (for best screw-up) by hooking his rudder on the pin mark's anchor line at the start of the last race. The crew thought of ordering pizza while waiting for the skipper to clean up and start the race.

m&m's 4th place performance under skipper Peter Grimm earned him the Seriol Williams Award for "Most Improved" at a major championship event. 

Champion crews included: Too Wicked: Michael Clements, Micah Vanderheide, Ella Li, and James Pettit. Back in Black: Phil Cragg, Reto Corfu, Drew Mitchell, and Ryan McKenzie.  Crantini: Alex Fox, Sarah Rosenthal, Sarah-Anne Brault, and Isaac Kitchingman.