SOLD - #109 Boomer
Boomer (hull #109) was sold in Bellingham, WA, on December 4th by Mike Merrick to Eric Bonetti (unlisted transaction, private sale). Eric will be moving to the Anacortes area from Oregon in the New Year. It is the 11th transaction of the year in the Pacific Northwest, and the 58th in just under 6 years.
With a white hull, Boomer measured in perfectly and came with a set of lightly-used Ullman sails, and it will probably reside either at Anacortes or Orcas Island going forward. Eric is already planning on racing in the 2023 Canadian Championships at Cowichan Bay!
Eric started sailing sabots at the age of 9 at the Balboa Yacht Club after his parents were able to scrape together $350 for a sabot and enroll him into the great summer morning program. By 15-16 he was definitely in the groove, sailing basically every day and weekend during the summer, and every weekend regatta in between Fall and Spring. He won the Sabot fleet championships for Newport Harbor—though never placed very high at the nationals. He then migrated to sailing Lasers, and won the Newport Harbor race week. In addition to being the Junior Commodore of the Balboa Yacht Club, he raced Lido 14s, FJs, Santana 20's, windsurfers, J-24s, crewed on a Santana 35, and also taught sailing at the Dana Point Yacht Club and Balboa Yacht Club from 16 - 18 years of age (to this day… the best job he's ever had), then off to college where his sailing career ended and the last time he set foot in a boat.
So here we are, 38 years later, and Eric's kids are off to college and he's looking to get back into the sport and the pleasure of sailing that has never left him. His daughter, who is a full time student at OSU is interested in racing with him, plus possibly his son, as well as a buddy who lives nearby in Oregon. Eric's partner, Patty, is very supportive of his endeavours to get back into sailing, but he's not sure if she'll be on the water for the racing aspect.
Enjoy your first Martin 242, Eric and Patty!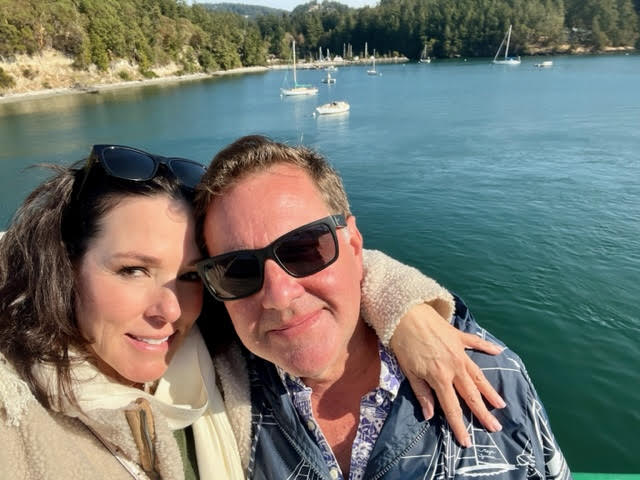 Patty and Eric at Orcas Island in October
---