On November 1st, the 11th boat of 2020 changed hands (10th in the Pacific Northwest Region): Ben Pliska of Royal Vancouver Yacht Club sold Dingo (ex-Blackadder 2.0), #2092, to James Volkers, who will race it out of Comox. James previously owned a 242 back in the 1990's and has competed in prior North Americans, and he plans to race Dingo in next year's NA's at Nanaimo. This is excellent news, as it continues a recent string of inactive boats getting sold or chartered to keen new owners.
Since Dingo's bottom hadn't been cleaned for over two years, per the attached photos, James is wondering if everyone would let him start 30 seconds ahead of the Fleet in the 2021 NA's to give him a fighting chance. It seems like a very reasonable request :)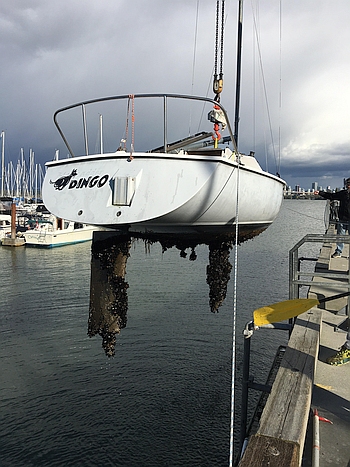 With a light grey hull, it has an excellent race record, coming 2nd overall in the 2016 NA's. The boat was completely faired and refurbished by Ken Holland to an NA's race-ready, competitive standard, with epoxy barrier coat and bottom paint. It came with: two sets of sails; a 2016 Measurement Certificate (the boat measured in perfectly); a new full canvas boat cover; and also a new main halyard and jib lines. It did not come with a trailer or a yard dolly, but James subsequently bought a road trailer from Ben Gartside in Sidney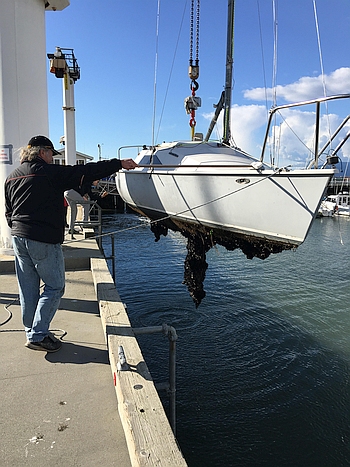 Welcome back to the Fleet, James, and enjoy your second 242!
(p.s: he did get the hull somewhat cleaned at RVYC, per this 3rd photo, so perhaps a 10 second advance start in 2021 would be acceptable)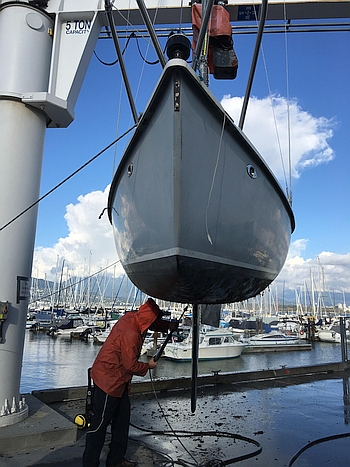 Lastly, here's a photo of James on the right and Ben on the left, just before Dingo left RVYC for Comox: