Last Chance Regatta 2021 at English Bay
October 16, 2021, 11:00 AM
As we near the end of another year of reduced racing at TCYC it's time to welcome fall and that means less sailing but with an increased likelihood of cold and rain. Lets join together and embrace the final regatta of our season, because WE ARE NOT DONE YET - THERE'S ONE MORE!!!

There is a fantastic event to enter and everyone is welcome. The TCYC Last Chance Regatta on Saturday October 16th. This is your last chance to make up for some of your mistakes made over the summer or to really cement your racing dominance - or more perhaps to shake off the rust and see what you have forgotten. At the very least it is the last chance for us to pretend it's still summer and get a few more mark roundings in.
We plan a day full of short, round the cans races on varied courses to keep you on your toes.  We will even give those pesky (and we mean that in the nicest way!) Martin 242 boats their own start i f 5 or more of them register. It's a great chance for everyone to practice for the upcoming Snowflake series or to tune-up your new crew for VRC's Polar Bear series.
Maybe you don't want to race, or don't have a boat - why not volunteer for Race Committee?  Contact This email address is being protected from spambots. You need JavaScript enabled to view it. to volunteer!

Registration closes at 20:00 on October 15 so register today!
More information and online registration: Last Chance Regatta 2021
Best regards,
Tiddly Cove Yacht Club

----------------------------------


2021 Lawrance Cup - Report
by winner Jim Hyslop!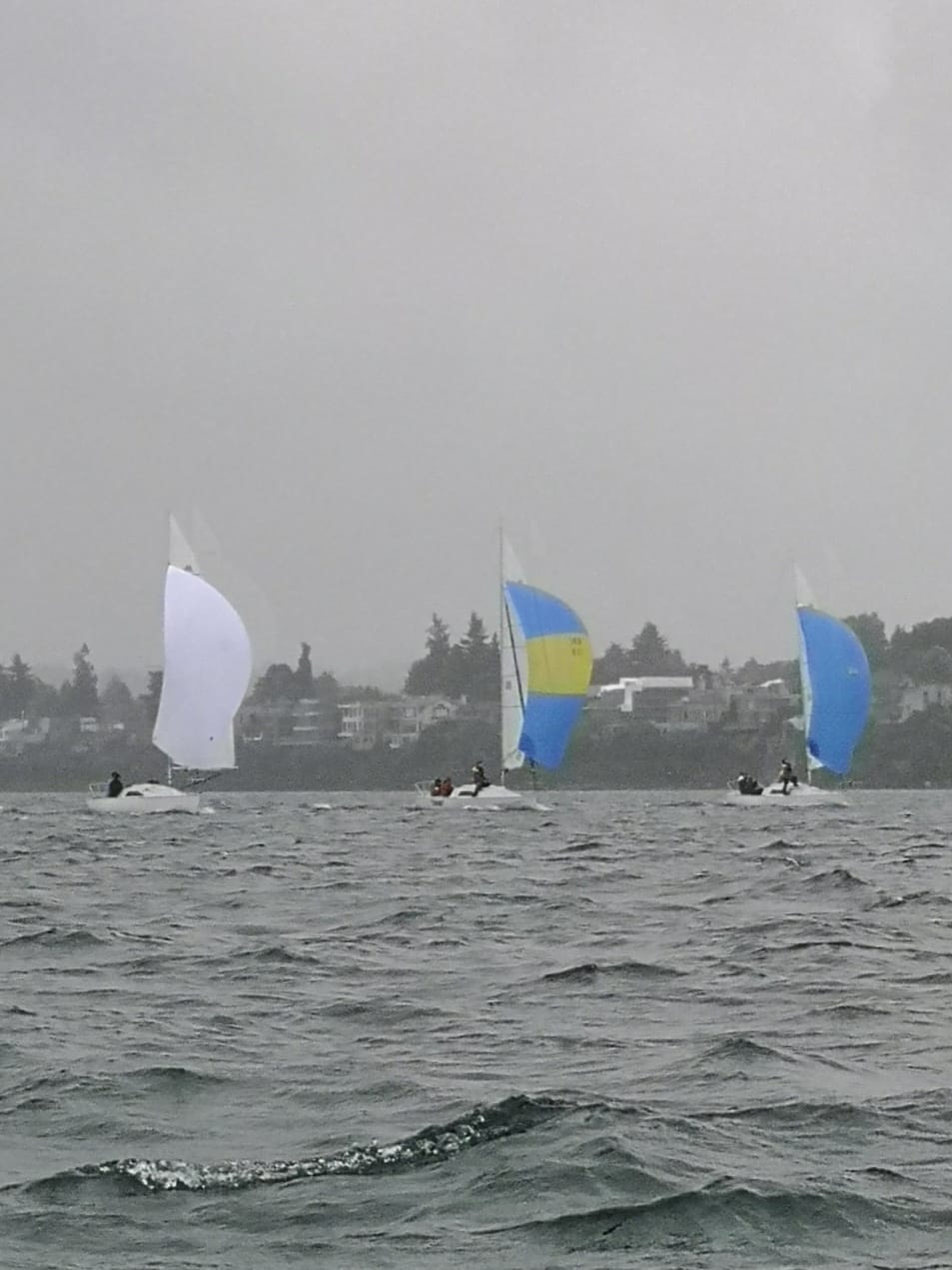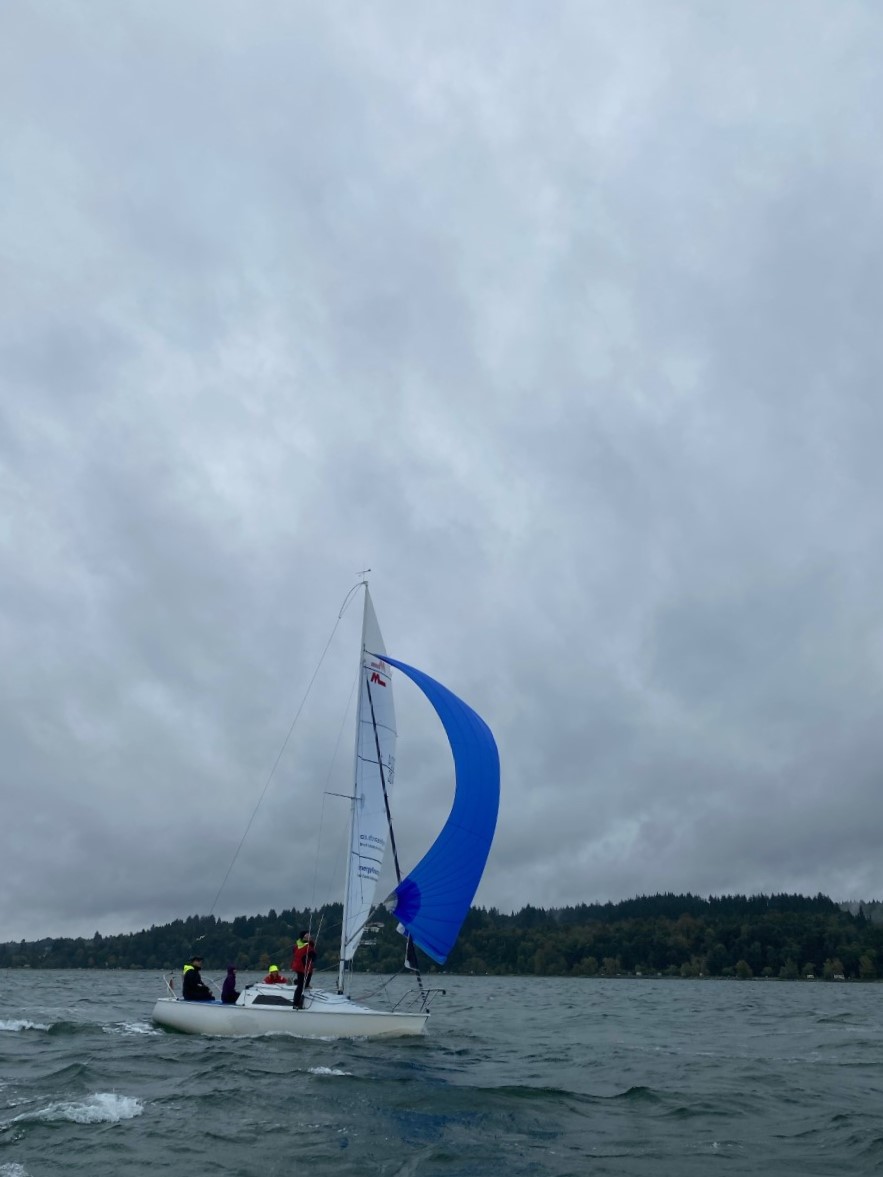 Sunday morning dawned with a wind warning in effect and the threat of heavy rain. After a short delay while the Race Committee evaluated the forecast, the race got underway in a brisk Easterly.
Six M242s charged down the bay in proximity, although Salient and Dirty Dog seemed intent on luffing each other to West Van! With a Northerly aspect to the breeze, the boats skirted Spanish Banks and got to the Bell Buoy in one gybe. It seemed the further out of the bay we got, the windier and wavier it got, and we set up for a tough beat back. M&M was first around followed closely by us on Second Wind; perhaps a little too closely, because we managed to hit the mark! A quick circle allowed Too Wicked, Dirty Dog, Whippet and Salient to go past and now we were at the back of the fleet.
A few tacks on the shifts up the Pt. Grey shore, we were back in the game, hiking hard in a lumpy 15 knot breeze. Setting up to leeward and inside the fleet for the long port tack hitch into the bay, we managed to slowly stretch out to a few boat length lead in spite of the breeze showing hints of a Northerly aspect. Most of the gains were likely due to less ebb current inshore, and we got a great back-eddy boost up the Royal Van breakwater.
As we approached the finish off KYC, the breeze became lighter and shiftier – we threw in a few covering tacks to stay between the competition and the finish and crossed the line with a comfortable lead. Dirty Dog and Too Wicked followed shortly after.
All in all it was a great day – nice breeze; windy, but manageable, not much rain and it was great to get out there with my 2 sons, Jack and Graham, along with their friend Ed.
Thanks go out to Ran Vered and the race committee, along with all the M242s who made it out for one last blast around the bay for 2021.
Final results:
1 2nd Wind - Jim Hyslop - 13:55:00
2 Dirty Dog - Matt Collingwood - 13:55:50
3 Too Wicked-  Michael Clements-  13:57:00
4 Sailiant - Anthony Collett - 13:57:30
5 Whippet - Craig Strand - 13:58:00
6 M&M - Peter Grimm - 13:59:00
---
2021 RVYC Fleet Champs - Report
A mixed bag of conditions had the RC hopping this weekend at the RVYC Fleet Championships regatta (Sept 18 & 19), but we managed to complete 5 and 1/2 races (one race on Sat was abandoned due to a freighter unhelpfully deciding to anchor directly in the middle of our upwind leg.)
Saturday saw a shifty, puffy southerly. Sunday was an equally shifty, but weaker easterly with a bit of rain scattered in both days. The conditions put a real premium on heads out of the boat sailing - watching where the new breeze would fill in and staying on the lifted tack. The longer courses (compared to the shorted Wed night races) meant boat speed was relatively more important than starts and mark roundings. 
The last event of the season for Fleet 1 is coming up this Sunday, KYC Lawrence cup. See you out there!

Full results here: