Racing Concept of the Month #5
The "racing concept of the month" articles are way of sharing the general racing knowledge that has been developed over the decades in the Martin 242 fleet – this is the fifth of a series. All are loosely based on the excellent content in this article by Michael Clements.

Tips & Tricks for the Leeward Mark Rounding
The leeward mark rounding can be another pivotal moment of the race where many positions can be gained or lost in not a lot of time or distance.
In general, your key goals for a good leeward mark rounding are:
keep your speed up – remember how long it takes a 242 to get back up to full speed at the start line; the same applies at a leeward mark rounding.
be in full control – try to have at least two crew members (helm and one other) with their head out of the boat and focused on speed and heading during the rounding, and not focused on rescuing a wayward kite, untangling jib sheets, or fishing a crewmember out of the drink. This control also helps if tactically you need to spin right around the mark and tack immediately onto starboard.
don't lose position to other boats – most likely to occur due to other boats being overlapped on your inside at the mark.
California Fleet News
Steven Moses sends this report from the Winter Warmup Regatta sailed by our M242 friends down in Santa Monica, CA.
And a reminder for those interested - MIDWINTERS IS COMING UP FAST: FEBRUARY 19 & 20. REGISTRATION IS OPEN : 
Register Here
2022 Crew Night - Crew Wanted!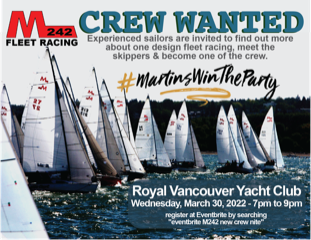 Wed March 30, 7PM to 9PM
Royal Vancouver Yacht Club

We are looking for more sailors! Come and join the most active, fun, and competitive Fleet of 24' racing sloops in English Bay.

About this event:
Every year the Martin 242 Fleet holds a meet and greet at the Royal Vancouver Yacht Club to enlist those interested in racing on these One-Design sailboats. If you have mastered the basics of sailing and would like to try racing, or if you are an experienced competitive sailor, and would like to pair your skills with some of the Pacific Northwest's top sailors, the Vancouver Martin242 Fleet is for you.

This is a FREE event and you do not need to be a yacht club member to attend or to race during the season. We'll get together in the lower Boardroom of the Club where you'll have the chance to meet different skippers and other crew looking to join up for the coming season. Please check back to our website closer to the event to follow the latest COVID-19 restrictions.
Dress is casual (we're Sailors). There might be a beer or glass of wine with your name on it if you register!

Skippers:
Please register at the link below to reserve a table.

Volunteer Request:
If you are available to lend a hand before or at the new crew night, please contact Matt Collingwood at

This email address is being protected from spambots. You need JavaScript enabled to view it.

or by text at 604-868-9444

Details and Register Here
---