2021 Canadian Championships at Cow Bay - Regatta Report
Thanks for the writeup by Drew Mitchell from
North Sails
 racing on the winning Team Swift: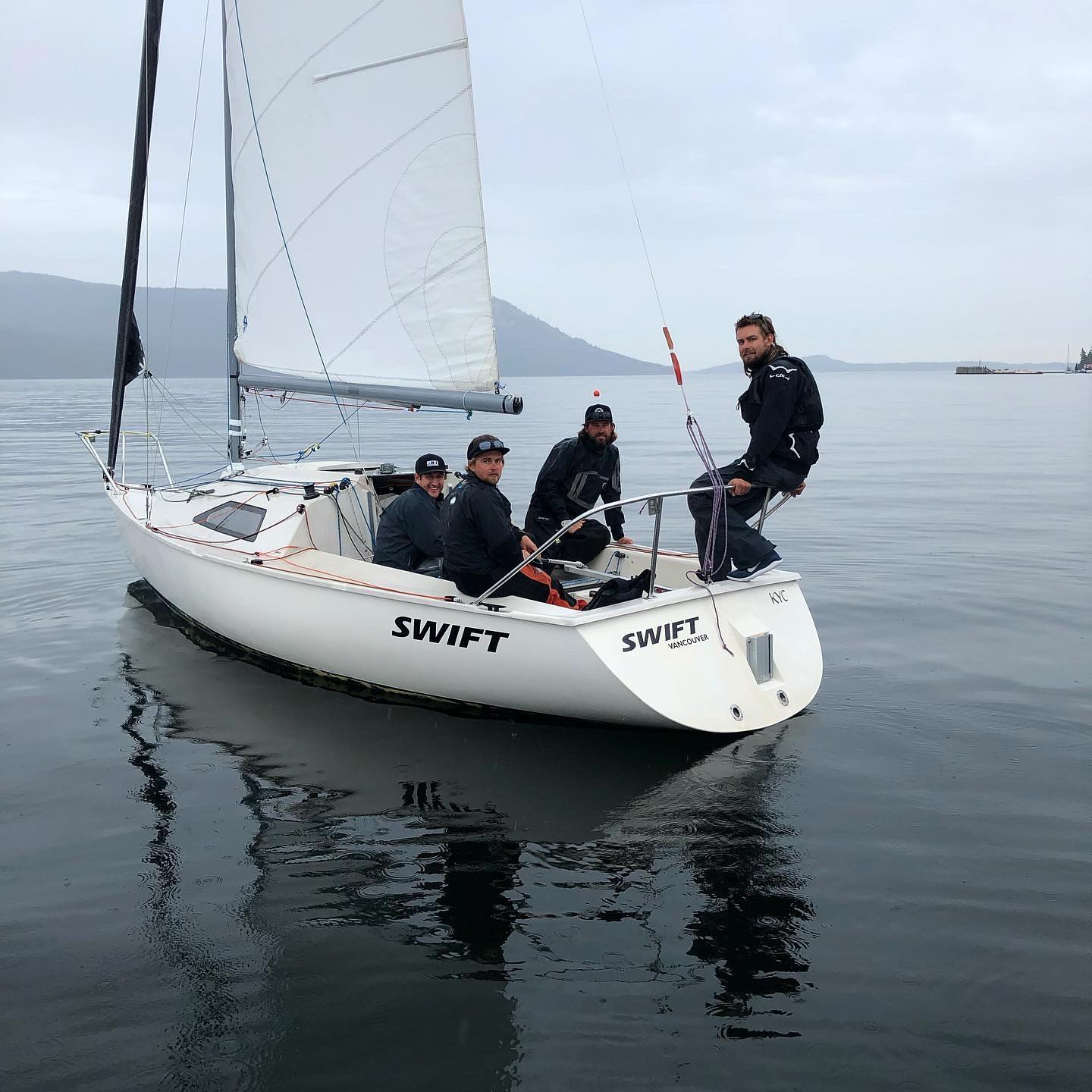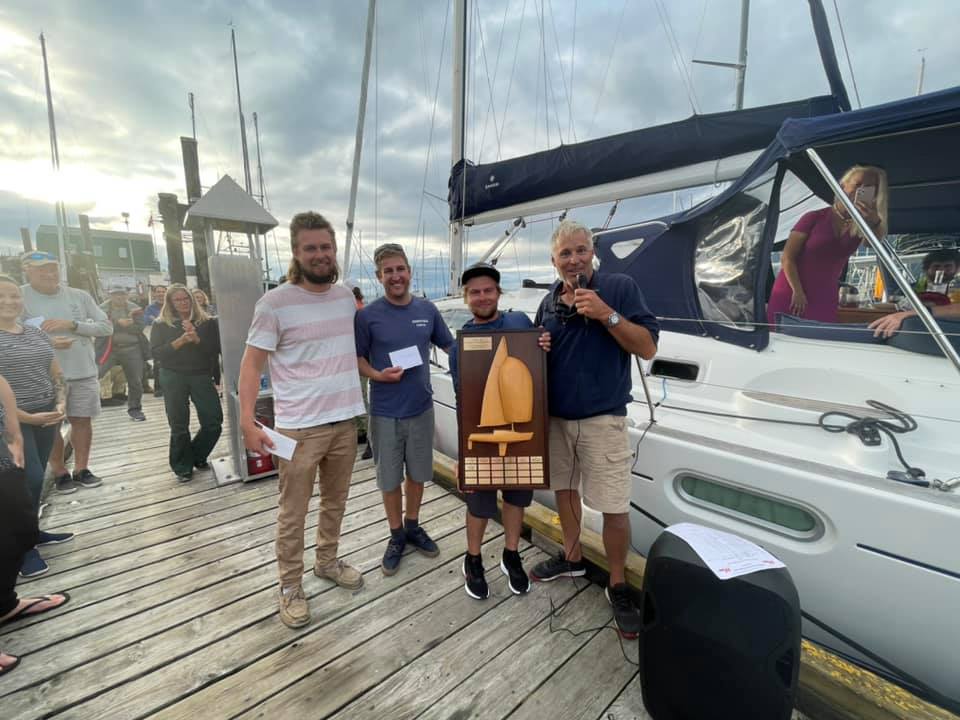 The Canadians had a good fleet with 16 boats ready to sail at the 2021 Canadians in Cowichan Bay, BC.


Team Swift sailed/towed our 242 over with a Boston Whaler on Thursday. We brought the Whaler over to have a support/coach boat on the water during the event, this enabled us to keep the boat as light as possible as the wind conditions were not favourable, as well as get video to help us improve. Coming over on Thursday gave us the opportunity to be able to spend the entire Friday prepping the boat and getting the new sails tested out. Alex and Yury, the owners of team Swift, leave no stone unturned when preparing a boat (Alex even wiped down the entire mast and dove the boat everyday). Alex, Yury and I spent Friday morning getting the boat and sails ready to go for a test sail. Alex had a laundry list of items we needed to check off before the rest of the team got down to cow bay (Fraser and Aidan had to work). We went for a quick late evening sail as we have all sailed together but never on the 242 and we also had two new sails on board. The wind was dying but it was good for some teamwork especially working on maneuvers.


Saturday morning was very light and the racing started up slightly after it was scheduled. If you do not know the Cow Bay race course, it is a giant single windward leeward with the start/finishing line in the middle of the course. As per norm the beach usually pays but with the light airs pressure was definitely something that over weighed the current in certain situations. We had two races on Saturday in light air with the 2nd one finishing at the leeward mark. The 2nd race the wind completely died and then filled in which caused some controversy, then the rain came.


Day two had the same sort of forecast with overcast and everyone was questioning if a race would happen. After a long postponement, races fired up and we had a 4-8 knots breeze. On Sunday we banged off 3 races and Team Swift was lucky enough to win all three to secure the event. We were similar speed to other boats upwind but once we rounded the windward mark we had real jets. Great tactics, team work and newly designed kite (editor's note: the secret is out!) had us round the leeward first in every race other than the one that we finished at the leeward mark. Two fun days of sailing in a very competitive 242 fleet is always fun. It seemed like a few boats had support boats and had some fun social gatherings after racing. I would like to thank Yury and Alex for preparing the boat to give us a chance to win, also would like to thank Fraser, Dale and Rowan for allowing us to stay at their beautiful home.


Please reach out if you have any further questions about set up, sails or any questions that I may have not answered in this write up. Really fun weekend and hopefully see you at the next big event!
Results Here

Also check out the write up in
Canadian Yachting
sailingimaging.com
was on the water and got some shots of the action, available for purchase here:
photo-graphics100.pixieset.com/martin242canadians/



---
Coming Up in September!
Sep 11
Royal Vancouver Leukemia Cup Regatta

Registration is $400 per boat.  Registration includes 4 tickets to BBQ after racing.  Additional BBQ tickets @ $35


Sep 15Fleet 1 - Final Beer Night at RVYC and LAST Wednesday of WES
Come to the big M242 table at Royal Van after the final Wed night races on September 15th. All welcome but M242 fleet one members receive a free beer.
Sep 18 & 19RVYC One Design Fleet Championships
https://www.royalvan.com/ods
This was a windy one last year! The last chance to race round the cans this season, it's usually a good one.
Sep 26KYC Lawrance Cup
A nice relaxing race to the bell buoy and back. NOR/SIs not posted yet this year, but
here's
the info from 2019 (not much will change). This race has been running since 1935 or something! It also counts towards the out of bay series overall trophy.
See you on the water!
---
Kitsilano Yacht Club - Thursday Night M242 Racing starts Aug 19
The last TCYC Thursday Night Shorts is on the 12th August, several M242s have been participating in the PHRF racing.
Kitsilano Yacht Club will now be adding a M242 one design start as part of their Thursday night race series starting Aug 19. For anyone looking for a more 'casual' night of racing compared to the Wed night RVYC series, check it out! Races start at 6PM, no registration required.
Any questions, email:
Ran Vared
or
KYC Manager - Eleanor Hawkins